Posted: September 9th, 2008 by ROM
While Portland is rife with pinball maniacs, CFF is still mostly a lone monster when it comes to organized play. So our brawl pool is more like a blow-up kiddy pool, if you know what I mean. Triple O (Out of Order) is one group whose initials we see here and there in town. They have turf, apparently (Beulahland?), and we have battled them long ago in the time before weblog posts. But oh shit! Tilt and OOO's Chris recently got into a heated argument about their respective gangs, but before it erupted into all out face-stabbing the two decided that our differences would be best settled in a good ol' pinbrawl.
So tomorrow we're battling against them at Good Foot (Stark and 28th-ish), 8pm. It will be five on five. Ruleset still to be finalized, but it will definitely be some sort of points or elimination to the death killmatch! So prepare to die, somebody.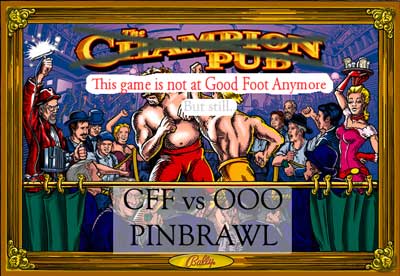 Which team has the ace 'ballers? Who can walk the walk that they talk about walking? Who gets totally psyched out in competition and flails around wildly and then starts crying? Whose initials have more variety? Which gang has a super cool website that's updated all the time? Who is better at photoshop, ROM or ORBIT? Who the hell is in Triple O anyway? These questions, and maybe more, will be answered tomorrow!
Check the message board post for serious discussion about tomorrow's event!
8 Responses to 'Pinbrawl – Wednesday, Sept. 10 – CFF vs. OOO'
Subscribe to comments with RSS or TrackBack to 'Pinbrawl – Wednesday, Sept. 10 – CFF vs. OOO'.
---
---

---

---

---

---

---

---

---
Leave a Reply