Archive for June, 2008
I really don't like Seattle. No, don't cry already my Emerald City Emo Kimosabe's. I like y'all fine. Seattle has proven to have some great drinkers, hellraisers and pinball lovin mother fuckers, and that's cool. Jeff Gagnon don't fuckin play around, he throws down hard and is not afraid to travel to your home court to show you what time it is. Jason Hatch , Cheeseboat, Carlos, Crazy Jamie, the ultra-sexy Nicole (dang) and even "That Chopstick Mother Fucker Diamond Phillips" give it there all and with flare. I don't mind sharing flipper stink finger with any of ya.
But what the fuck is with all the preppy sweater wearing wimps, gutless music scene (Earth does rule) and crackheads with machete's? Your town is too expensive. It shut's down too early. Your drinks are weak. I didn't get laid! What the fuck!
OK, so maybe the last one can be blamed on flawed nature. There is no excuse however for not doing so well in the NW Pinball Expo. No excuse for not getting laid. No excuse for having so much fun. That's right I said it, I had a lot of fun. We all did. Thirsty Jeff is a great host and tour guide. And thanks to some dipshit with a collared Izod shirt, even DDT left happy. I doubt the preppy dude is eating solid food right now. Too bad! Don't threaten DDT ever!
Thw NW Pinball Expo was a success. Maybe some tickets floated around in a nepotistic fashion, maybe someone blatantly put his scores at the top of the pile to be recorded first. The top finishers were no surprise. These guys can play some fucking ball. They may be without personality and charm, but I have enough friends.
CFF represented well enough. I think all 8 of us were top 30. Replay and Rom busted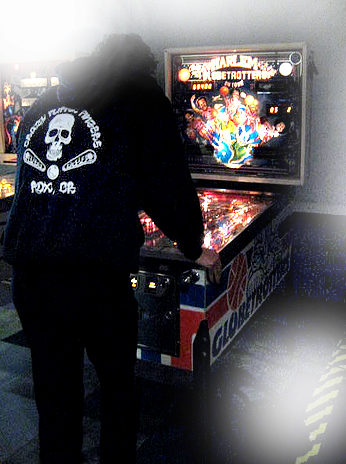 ass enough to make it to the second round. They kicked some major ass. As time goes on, we will see higher placements from everyone. For now, we take the lessons and move on down the road to glory.
Everyone of us left on a high note. We all agree that the venture was a success (maybe not fiscally). Despite the prejudices and misunderstanding that surrounds Portland and CFF, I don't think we want to be understood. We don't need anymore people to move to our city. We just need to rock and be awesome.
Mission accomplished.
Rom
Replay
DDT
Jackpot
Slamtilt
Orbit
Combo
Kickback
Written by Kickback.
Second photo stolen from cheeseboat.
Posted: June 12th, 2008
at 11:51pm by ORBIT
Categories: CFF
Comments: 13 comments