Archive for July, 2010
Day 1 of qualifying at the Showdown comes to a close, and what do we have? We have this:
Basically:
Robert Gagno – 1st
Cayle George – 2nd
Danny Backglass – 3rd
Romulanx – 4th
and etc.
Open division machine scores:
Simpsons
Demolition Man
Whirlwind
Terminator 2
Frontier
Seawitch
And the Classics Division Leaderboard
Royal Flush
Aces and Kings
Aztec
Solar City
Nice turn-out tonight. It felt busy. We're showing 40 entries so far. Even stronger than last year at this point. A lot of the weekly regulars have shown up (though not all! what up), as well as some fresh faces, plus there's a solid contingent from Seattle, and from British Columbia. And more of them to arrive tomorrow. Action starts tomorrow at noon. And there's, no doubt, gonna be a lot of shifts in the leaderboard.
Ricochet has set up some rad side-games. Get this! They have a Data East Star Trek machine with flippers that you activate using an NES Gun! There are sensors at the bottom of the playfield, and you shoot the gun at the left or right sensors, accordingly. Its really difficult! But I was definitely improving with each try. Whosoever has the high score by the end of the tournament wins half the coin box. 25 cents to play.
Plus, they set up Bad Cats Tommy Style – with the bottom foot of the playfield covered up in black tape, so you can't see the flippers!
And – third side-game machine – Time Machine is set with reverse flippers. The right button triggers the left flipper, the left button triggers the right. Super challenging. Top score on any of these machine by the end of the tourney wins half the respective cashbox. They are really fun, unusual, and creative side-games to be running during the tournament. Fun ways to step away from the qualifying machines and just get wild!
Sorry, I did not take pictures of anything tonight. I'll take and post some pics tomorrow. And I'll also post another status report after the qualifying rounds ends, midnight tomorrow. Good luck tomorrow, everyone. Let's see some sick scores!
Hey hey, next weekend is the second annual Showdown at Slabtown!! It's a three day tournament, with big cash payouts to those who qualify for the final day's matches.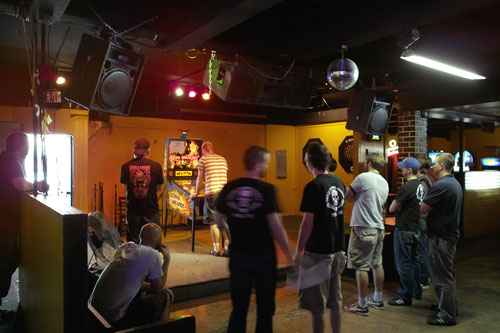 Check out the Showdown page for more details, plus some stuff about the rules.
And read the message board thread for some hot discussions!
This style of tournament, though different from Portland's weekly tournaments and from the Ground Kontrol Pinbrawl, has a strong focus on an individual's skill and strategy. While you are trying to beat other people's scores, you're also allowed the time and space to do your best without having to worry about being eliminated after just a couple bad games. Two days of casual flow qualifying on Friday and Saturday! Hang out, watch the players, watch your placement go up and down, and have fun!
But then on Sunday, things change! Once it's down to 16, you'll be matched up against the other players, playing three 4-player games, and then advancing (or not) from there.
A lot of people will be entering this tournament. It's a good way to check out the scene, get sorta serious about your game, TRY HARD, and maybe win some money!
Here's an overview:
Slabtown
1033 NW 16th
Portland, OR
Open Tournament will be held on 6 machines and qualifying will be held from:
Friday, July 30 3:00-Midnight
Saturday, July 31 12:00-Midnight
Finals will be held on: Sunday, August 1 following Classics finals
Classics Tournament will be held on 4 machines and qualifying will be held from:
Friday, July 30 3:00-Midnight
Saturday, July 31 12:00-Midnight
Finals will be held on:
Sunday, August 1 at 12:00pm
1 ticket=1 game
1 ticket- $3
4 tickets- $10
Open tournament machines:
Seawitch
Frontier
Whirlwind
Demolition Man
The Simpson's Pinball Party
Terminator: II
Classic tournament machines:
Aces and Kings
Royal Flush
Solar City
Aztec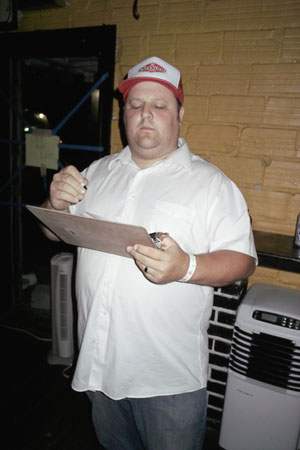 Machines are provided by Quality Entertainment, Ricochet Pinball, and some individuals. Thank you to all y'all, and to the organizers, and Slabtown! It should be a lot of fun. There are two big pinball tournaments in Portland each year, and this is one of them!
In the meantime, read our excellent (live)blogging coverage from last year's Showdown:
Showdown at Slabtown – Updates
Top 16 announced
Showdown at Slabtown wrap-up
And like last year, we'll try to keep this blog up to date with the latest qualifying scores (daily round-up).
Ship Ahoy Tavern
2889 SE Gladstone St Portland, OR 97202
Phone: (503) 239.0868
AFM
DW
WCS'94
WH2O
Single game, double elimination. $5 entry, starts at 7:00pm.
Shanghai Tunnel
211 SW Ankeny Portland, OR 97204
Phone: (503) 220.4001
TAF
BSD
HSII
Pinbot
WCS'94
Single game, double elimination. $5 entry, starts at 7:00pm.
My Father's Place
523 SE Grand Ave Portland, OR 97214
Phone: (503) 235.5494
24
BDK
SS
NBA
MM
Single game double elimination. $5 entry, starts at 7:00pm.