Archive for August, 2008
Today being the one-week anniversary of the one ball tournament, it's about freakin' time I posted the results, so here they are:
After two rounds, the cumulative points leaders were ASN and ROM tied with 8 points. A final, one-ball playoff revealed Aaron to be the champion on the evening, putting Ryan in second, and leaving Jacob Chandler unsupervised  to do what he pleases as bronze medalist.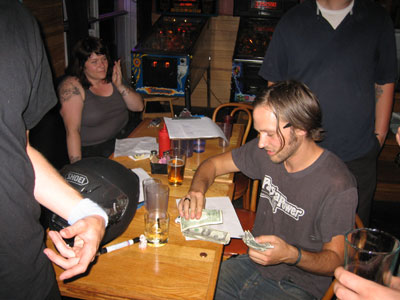 Our first tournament, organized on short notice and minimally publicized, drew 22 solid competitors and generated around $70 bones to be divided up between winners,  with almost $10 extra scrill tipped out to the bartenders who tolerated the presence of our monster white board and agonized pacing as the final scores came down to the wire.
The machines (Spiderman, Monster Bash, Indiana Jones 1, Midieval Madness, and Whirlwind,) all played great with the exception of a mysterious reset on whirlwind during Jacob's first round which probably wasn't a slam tilt and which unfortunately cut him down at 4 mil, which held out to win the round on that machine.
With the exception of a few breakout scores, results were close on all machines, proving a couple of things: One, there are a lot of good ballers in portland, almost any of whom could rise to the occasion on any given day. Two, almost all of us do way too little with our average first ball! Watching the psychological spasms of most players coming to grips with the pressure of having one ball and only one ball to work with and build their strategy around was very interesting indeed. Several players buckled under the pressure, declared they "weren't feelin' it," and drained away into the night after their first round entries. Given that 15 points were possible in each round, for a total of 30 possible points, the fact that the winners managed only 7-8 points shows just how level the playing field was. True to form the champs were among the most focused and consistent players around, day in and day out, but hopefully this motivates everyone who came (and everyone who thought about it but didn't, or couldn't make it,) to up their game and show up next time, knowing they could themselves take home the pride, glory, and $20 or so these massively great warriors earned.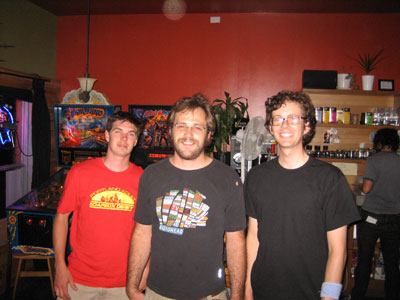 We will be organizing another tournament next month, so please sign up for the board and leave some feedback about suggested locations, time/date, and format for the tournament. We could do a points system as before, head to head elimination games, or something completely different.
Thanks to everyone who played and helped, and special thanks to the Alleyway Cafe for hosting!
Bounceback
Posted: August 30th, 2008
at 3:51pm by BounceBack
Categories: CFF
Comments: 4 comments
http://www.popularmechanics.com/technology/upgrade/4276614.html
And Kickback has one of them sitting in his basement, in need of loving mechanical TLC…
In other news, the CurrentTV documentary got picked up for cable! so hopefully we'll be hearing some new voices on the message boards and seeing some new posts. Keep adding content.
If anyone has time, it would be great to get some pics and a solid review of Batman up on the website, from our perspective. So far Pinballnews.com is the only place online with much at all to say about it, and it would be nice to get some solid opinions up from the CFF POV. Seems like it could be a good game if they would complete the modes and give players something to go on. Disappointing that this is yet another new game with only one ramp.
Also, if we're serious about adding a Reno chapter and deepening the Seattle chapter, i know a couple of people in Reno who would be interested.
Lastly– the last meeting was low-energy and low-turnout. There are tons of ballers in this town. It would be great if people would invite anyone they see around town playing that seems at least a little interested, to come out to a meeting and see what it's about. Bring some friends to the next one– we're going to have a cool mini-tournament and hopefully some intense ripping.
CFF!
Posted: August 8th, 2008
at 12:08pm by BounceBack
Categories: CFF
Comments: 11 comments
Attention Pinball Nation: Crazy Flipper Fingers is PROUD to announce the arrival of three of its greatest additions EVER!
She's cute, she's funny, she mixes drinks in a room full of naked women, and she RIPS at Pinball: SUPER LOOPS has arrived on the scene! Bow down! Super Loops, aka Angela Cruikshank, aka Multiplier, aka Motherboard can be found smashing flippers all over Portland. When she is not smackin' Pins and shakin' Drinks, she is busy breeding the next generation of Pinball Messiahs. She even has a Pinball Machine in her living room. Sorry kids, no homework until you finish your Pinball. All Hail Super Loops for Life!!! … I mean… til' DEATH!!!
CFF is proud to present a Pinballer that we expect great things from in the future: DEATHSAVE aka Jeff Gagnon is the first member of our new Seattle chapter! Deathsave has proven that he can roll with the big boys time and time again. He has impressed us with his stylish flipper operation, his rawkus high scores and his lust for dark days and bright solid-state nights. Deathsave Grand Champed EPM within two hours of his initiation and then proceeded to drill in his new initials all over P-Town. All Hail Deathsave til' DEATH!!!
CFF, in its bid for World Domination, has added a member larger than life itself: stand aside for WIDE BODY! Wide Body aka Matt is the first member of our spanking new Reno, Nevada, chapter. Wide Body quietly sat through several hundred CFF meetings before any of us assholes thought of initiating him. He is the Silent Assassin, not to be confused with the Shitkicker and the Tri-Cities Sneak Attacker. Wide Body's old initials (NOT CFF) can still be found all over Portland. For Christ's Sake somebody beat those scores! Wide Body til' DEATH!!!
Last but not least, CFF now has a bank account thanks to our friend and CFF bride Molly at WaMu. Thanks for all yer help Molly! You so cool. Next time warn me in advance when the I.R.S. is on the phone asking for me. Now put some extra dough in our savings please. CFF members can now track the spending of their war chest! We have checks and a debit card, too.
In other news, ROM aka The Texas Shitkicker, won the Portland Pinball League Championship tournament at Ground Kontrol last week. For those that don't know, ROM absolutely owns the Portland Pinball League these days. He is a true Pinball Champion. ROM is now accepting applications for Pinball Concubine.
The future is here! Pay your dues and let's make shit happen!
Posted: August 2nd, 2008
at 8:29pm by ORBIT
Categories: CFF
Comments: 2 comments