Archive for April, 2008
CFF's been getting a fair amount of press lately. At each meeting we seem to take in, for a few precious hours, a fresh batch of concerned journalists and confused sociologists. They follow us around with pens in hands and cameras on shoulders, asking us about our goals, inspirations, and designs for life. We get drunk and start yelling things about crushing initials, racking up sick bonus multipliers, and how some quarter machines don't take the new five dollar bills.
With this increased attention, we're going to soon be having way more people navigating to this site to check out what we're all about. And since none of us have set up a press packet, or even a page that displays photos and member profiles (but I swear to Kickback's Mars God of War machine that a page of this sort will be up soon, hopefully before the Current TV and NPR stories see the light of day), most visitors won't be able navigate their way to enlightenment.
So in the spirit of some dead guy who was really accommodating but whose name I can't remember, I'm going to award your brave questions and concerns with an exclusive glimpse into the bowels of the gang – a glimpse into something that radio can't reveal, and that video cameras will only graze past within the flurry of activity. Here, my friends (or whatever), is a rare photo, caught by Spinner at last Sunday's meeting at Good Foot, of Slam Tilt living up to his namesake.
This basically sums up what we're all about: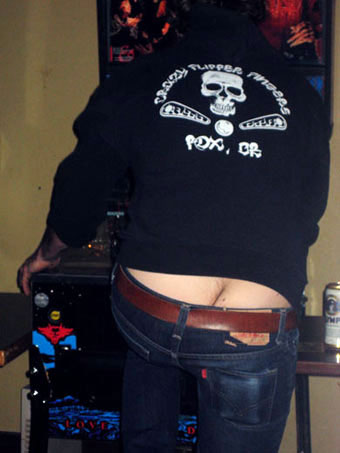 Posted: April 30th, 2008
at 3:07pm by ROM
Categories: CFF
Comments: 4 comments
In keeping tabs on "retro gaming," the NY Times yesterday printed an article about the Stern manufacturing plant. The article, for some reason originally titled, "Tilting at Pinball Machines," but then changed to, "For a Pinball Survivor, the Game isn't Over," (no joke; they changed it between then and now) gives readers a brief tour of the plant, and touches upon, with little detail, the fact that real human people spend many hours constructing and testing these machines before sending them out to distributors. Little is said about innovation and ideas, nothing about upcoming titles, nothing about some of the reasons why Stern is the last manufacturer (except I guess they hint that the main reason is user demand, and that just ain't true), nothing about pinball hotspots such as Portland.
Basically, I'm just not very into skimpy articles like this that only serve to perpetuate the angle that the supersport of pinball is on its deathbed. Sure, it's interesting to get a glimpse into the plant, but a more in-depth piece about the state of pinball is needed. The common perception is that pinball is too simple an idea in this day of complex, interactive, jacked-in games. But, as our hero Brian Eno advices, turn off the options, turn up the intimacy (I was actually looking for another article from Wired about how consumers are in fact turned off by systems that are too complex… and so on). Pinball is where it's at, man; but there's a problem in communication, i.e. advertising, distribution, and so on.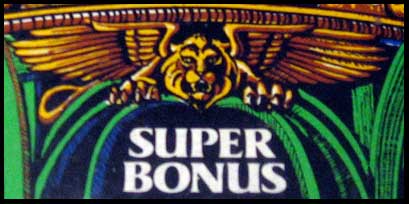 On another note, a friend of mine just got back from Thailand, and he arrived bearing a "Wii" game called "Pinball Hall of Fame: The Williams Collection." It has ten games on it, including Taxi, Funhouse, Gorgar, and Jive Time. And maybe I shouldn't put quotes around Wii, since this actually looks sort of like a legit title. At any rate, here is your next article, NY Times!
The fate of the World rests in the tips of your fingers.
Danny "Backglass" Belrose was the undefeated winner of the Portland Pinball League tournament Saturday at Ground Kontrol classic arcade.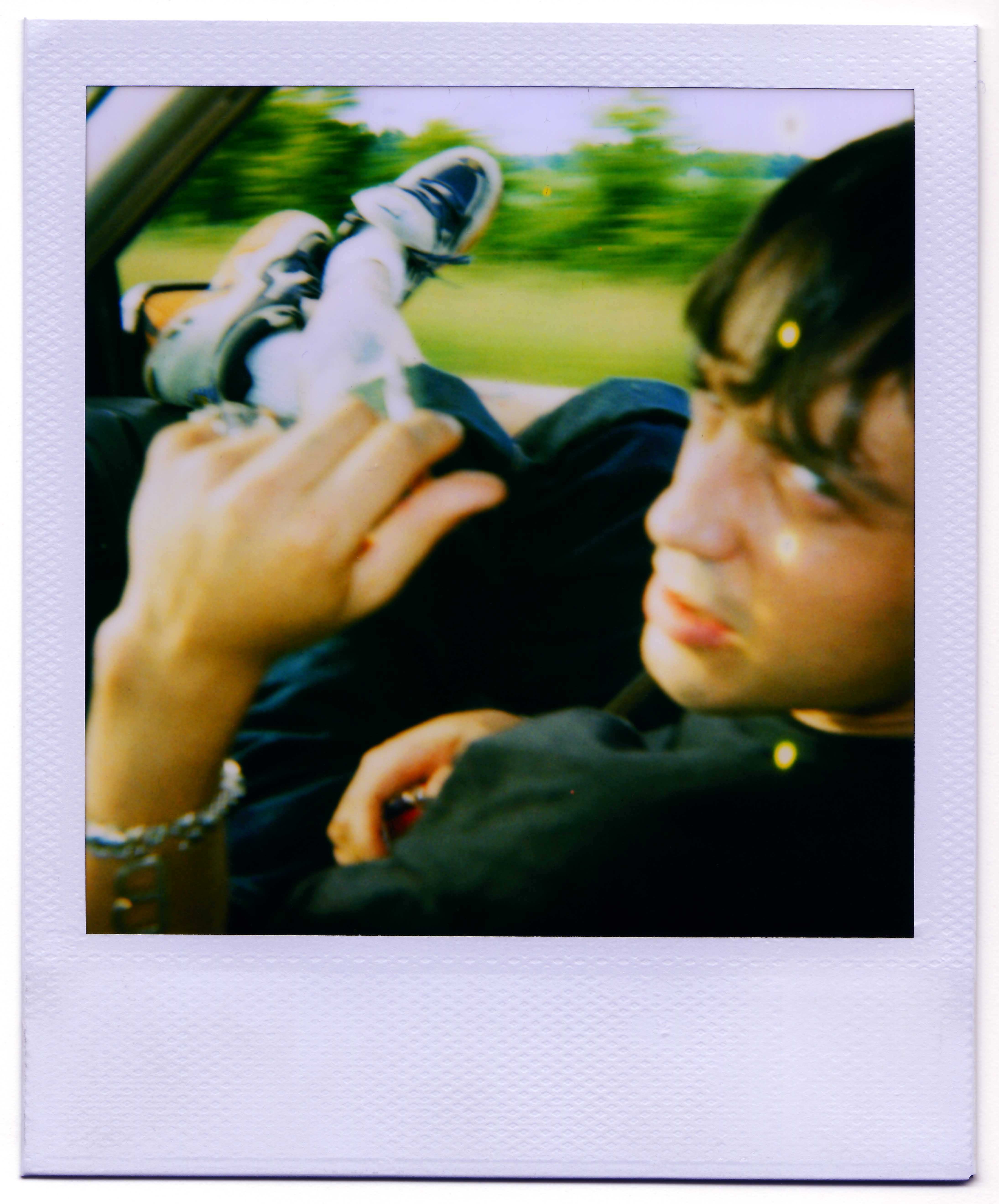 Backglass, who has been playing pinball for over 20 years, finally ended his streak of poor performances on the tournament level. He defeated all comers on Haunted House, Kingpin, Pirates of the Caribbean, Road Show and then ended his reign of terror by putting his initials on the board during the championship round of the Simpsons.
"When I got to the final round, all I was thinking about was Michael Jordan, Albert Pujols, and Wayne Gretzky," Backglass said. "I even went to look at Jordan's picture on Space Jam, but apparently they got rid of that piece of shit months ago."
Backglass would like to thank all the members of CFF for their support, as well as Kashi Vai, Sid Vicious, Eddie Van Halen's striped guitar, and Douglas Jeffers.
Polaroid by Herb.
Posted: April 6th, 2008
at 9:29pm by ORBIT
Categories: CFF
Comments: 11 comments