Archive for March, 2010
Let's see who the baddest cat in the place is! Show up and help me (rev) celebrate 35 years on this planet….then off to the next one!
Posted: March 30th, 2010
at 11:10am by revtest
Categories: Events
Comments: No comments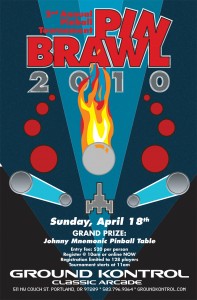 WE ARE CURRENTLY AT 127 REGISTRATIONS.

REGISTER HERE AT: http://groundkontrol.com/wordpress/?cat=12
The time is nearly nigh for the 2nd Annual Portland Pinbrawl. So, bone up on your skills – your pinball skills, your pre-registration skills, and your metaphor skills – because soon you'll be punching suckas in the face left and right, via your scores being higher than theirs.
Details:
Ground Kontrol – 511 NW Couch St.
Sunday April 18, 2010
11am til death
$20 for entry
Machines: There are a lot lot of them. Check the GK site or the Portland Pinball Map for the list.
I don't have my datapad in front of me, but last year there were like 120 people (128?). This year'll be about the same, except that shit's being capped! 128 en toto. Pre-registration is open now, so you better pre-registrate now or die forever, okay? As of this writing there are 61 pre-registered. Still over a month away and it's nearly half full? That should tell you something right there…
Note that this year it's going to start a little earlier. 11am SHARP. Very sharp.
There will be two mini-tournaments happening during the main event, run by your favorite hometown heroes, CFF! The mini-tournos will be a split-flipper tournament, and a one-handed tournament. The split-flipper will be on Viking. The one-handed will be on Dr. Who.
There will be a food cart nearby for tasteful all-day grub.
The format for the main event is 1 on 1, best 2 of 3, double elimination.
The grand prize is a Johnny Mnemonic DVD Pinball Machine!
Stay up to date with Ground Kontrol's Pinbrawl blog posts. Also, click that link to pre-register.
Okay then, see you then! Don't forget to try your hardest!
And now, some brain-exploding words from our favorite Portland-based pinball locator service:
Have you ever thought about how in the future you could have a big list of nearby pinball machines… listed on your phone? Good – glad you've thought that. It's a great thought to have. Well, ladies and everyone, that future is technically NOW. Introducing the next step in advanced technology: the Portland Pinball Map iPhone App.
Art by Drew! UI by Isaac!! Consultation fees and extensive kickbacks awarded to ROM and SSW!!! Yea!!!!
Features:
Tracks 340+ pinball machines in 170+ locations all over Portland (and Vancouver too!)
Find locations by proximity (an iPhone app exclusive feature!)
Filter locations by those having four or more machines
Stay up to date on your favorite spots, or find new favorites
iPhone and iPod Touch 3.0 compatible
It costs .99 galleons.
Updates will be rolled out. Feedback is encouraged.
GO HERE FOR MORE INFO (INCLUDING SCREENSHOTS), AND TO ACCESS THE APPLE ITUNES STORE.
Posted: March 12th, 2010
at 12:44pm by ROM
Comments: 2 comments
Posted: March 2nd, 2010
at 1:44pm by dropshot
Categories: Events
Comments: No comments
Posted: March 2nd, 2010
at 1:43pm by dropshot
Categories: Events
Comments: No comments
Posted: March 2nd, 2010
at 1:42pm by dropshot
Categories: Events
Comments: No comments
Posted: March 2nd, 2010
at 1:41pm by dropshot
Categories: Events
Comments: No comments