Posted: June 15th, 2010 by ROM
Great news, people! Please read this general pinball service announcement:
As most pinballers in Portland know, the Portland Pinball Map serves this city well as the go-to source for locating pins in town. The map has an army of pals, many of them unknown and unacknowledged (until now: thank you), keeping the data up to date. When you stop into a spot and notice a machine has been swapped out, it's only a matter of moments until *click click BAM* the website is updated. Easy as that. And with the next version of the iPhone app coming at ya shortly, users will be able add/remove machines and stuff straight from their phone. Plus what's more, the Android app is shaping up curvaceously, and will be available sooooooon!
So, as I've pointed out, the map works well here because we have 1) a ton of machines, 2) hot data, 3) a really user-friendly website, and 4) an active user base that helps keep everything up to date.
But there are some other cities around the country with a bunch of public machines, too. And they wanted a map like ours – So! the Portland Pinball Map has expanded to cover other cities. First up are British Columbia (aka Vancouver, BC), and Seattle, WA. Their maps are basically separate sites, all under one domain. And it's easy to switch from one to the next. See: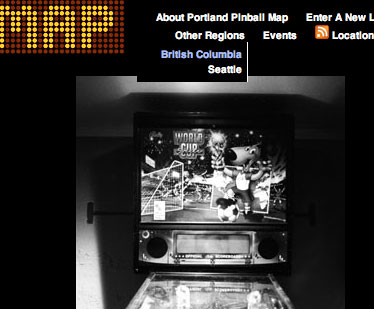 The new link for the site is http://pinballmap.com (though http://portlandpinballmap.com still works, too).
If you already have the iPhone app, the next version will have these regions added to it. And any additional regions we add will be automatically added to the apps (no updating necessary).
We're excited about these new regions. VRPA is managing the BC data, and they're surely going to be on the ball with keeping things up to date. But for both regions we need to get the word out! If you live in either of these areas, please start using these maps! The cool thing about these is that you don't have to send machine updates to someone, and then wait for the updates to be made live – you can do all the updates yourself. Cut out the middleman!
And we're always adding more features to the maps. If you have suggestions, sock 'em to us.
One Response to 'The Pinball Map is Multi-City'
Subscribe to comments with RSS or TrackBack to 'The Pinball Map is Multi-City'.
---
---
Leave a Reply